Small Business Fleet
360 Small Business Fleet Cards will help you take control of your fuel and service expenses with an easy to use online system that saves you time and money – this is the right choice for most local gasoline and diesel fleets. Start saving with 360.

• Accepted At Over 98% of Fuel Stations

• 1% Rebate At Thousands Of Locations

• No Setup, Card Or Ongoing Fees
360 FlexCard
360 FlexCard can be used at any retail site across the country. With 360 FlexCard, you are able to combine your fueling expense reports and take advantage of 26 day payment flexibility. Start saving today with the 360 FlexCard.

• Flexible Payment Terms

• Discount Fuel Across The Country

• Consolidate Fueling Expenses
Over The Road Fuel
360 OTR Fuel Card is designed with your trucking fleet needs in mind – combining great fuel pricing with cash advance, factoring, tires and fleet service options. For all of your diesel purchases at truck stops and travel centers throughout the country.

• Accepted At 6,000 Truck Stops

• Discounts At Over 1,500 Locations

• No Fee Program
Find the fleet fuel card that is right for your business.
Introducing 360 FlexCard
Enjoy flexible payment terms to allow your business time to pay when you are ready.
Universal Acceptance
Fuel at over 90% of fuel stations throughout the country.
Flexible Payment Terms
Pay in full or carry a balance and take advantage of 26 day payment terms.
Security & Protection
Track all purchases in real time & implement driver ID numbers.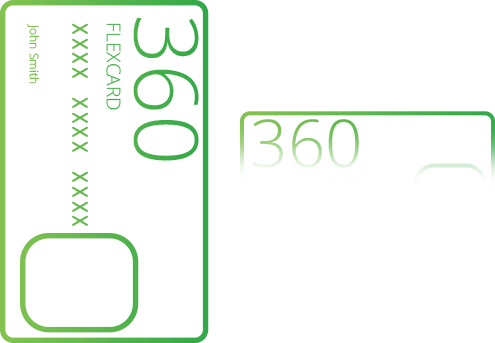 Fuel Your Fleet More Efficiently
Take control of your fleet with industry leading security & controls and combine that with our fleet fuel discount network.